Medina High School December Students of the Month Named
Congratulations to Medina High School seniors Elizabeth (Liddy) Thies and Jacob Mardovin, named December Students of the Month.
On her nomination form, Elizabeth (Liddy) Thies was described as "...the star on top of the Christmas Tree!" That statement encompasses her intelligence, charm, empathy, and dedication. She is a member of the Debate Team, Huddle, Spanish Club, National Honor Society and Growing Leaders for Student Athletes. An enthusiastic volleyball leader, Liddy also maintains a rigorous academic schedule and finds time to volunteer in the community. She is the daughter of Erin and Kevin Thies.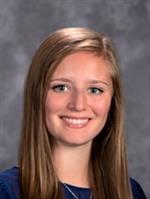 Jacob Mardovin is a leader who demonstrates maturity in the choices he makes. He is conscientious, hard-working, dedicated, congenial, intelligent and so easy to get along with. Jacob plays the trumpet in the band as well as being involved in Spanish Club, Key Club, Huddle, National Honor Society and volunteering in the community. He is a self-motivated student committed to doing well with his rigorous academics. Jacob's parents are Michelle and Dan Mardovin.