A.I. Root Middle School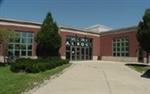 Root Middle School is a public school housing approximately 779 students in grades 6 through 8. We represent one of two middle schools in the Medina City School District. Our sister school is Claggett Middle School.
Our bell schedule consists of eight class periods. Our students receive opportunities in core academic areas along with courses in Art, Project Lead the Way, Music (Band, Choir, Orchestra), Physical Education, Foreign Language, Health and Computer courses all designed to develop a student's knowledge and experiences. We take great pride in the success of our students and their continued development as young people.
Root Middle School offers many athletic and co-curricular opportunities. These programs are a great way for our students to become involved in their school and community while improving our school atmosphere. As a bonus, many friendships are made during these activities!
We look forward to a great school year and hope to see you at many of our events. Please refer to the Root Middle School website or call the Main Office at 330.636.3500 if you have any questions.
#WeAreRoot
Cindy Grice
Principal
A. I. Root Middle School
---
*
Principal
Associate Principal
Secretaries
333 W. Sturbridge Drive
Medina, OH 44256
Phone: 330.636.3500
Fax: 330.636.3834
Attendance Line: 330.636.3504
Hours:
7:15 AM-3:00 PM
Student Hours:
7:38 AM - 2:22 PM
Follow us on Twitter @AIRootMiddleSc1