A Message from the Principal...
Welcome to Ella Canavan Elementary. At Canavan, we encourage students to reach for the stars everyday. While our focus is on student learning, we work to make sure our students have multiple opportunities to explore different activities. With club choices such as chess club, theater club, glee club, 24 club, garden club, knitting club, art club and many more, the possibilities of finding an interest are high.
Our PTO is very active at Ella Canavan. Through their dedication, they are able to sponsor many programs at our school. Some of the programs PTO sponsors include MadCap Puppets, COSI, Kidscripts by Magical Theater, agendas for grades 2-5, a book for every student during Right to Read week and field trips for each grade. With their generosity we are able to extend learning beyond the classroom and provide enrichment opportunities for our students. To learn more about our PTO, feel free to come to a meeting. PTO meets the 2nd Tuesday of every month at 7:00 p.m. in the Canavan Media Center.
Sincerely,
Brian Condit
Principal
---
Building Information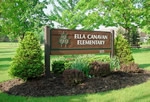 Ella Canavan Elementary School
825 Lawrence Street
Medina, Ohio 44256
_____________________________________________________
Principal: Brian Condit
Secretaries: Christina Rutter
Amy Brewer
______________________________________________________
Phone: 330-636-4000
FAX: 330-636-3829
Attendance Line: 330-636-4004 (Please call if your child will be absent or tardy.)
Office Hours: 8:00 a.m. - 3:45 p.m.
School Hours: 8:45 a.m. - 3:30 p.m. Tardy Bell rings at 8:55 a.m.
---
*** DUE TO THE COVID-19 PANDEMIC, WE ARE NOT ABLE TO HAVE ANY VISITORS AT THIS TIME *** THANK YOU FOR UNDERSTANDING.
---
---
Winter Dress
Weather permitting, students have recess outside each day. A decision to have outside recess during cold weather depends upon the temperature and the wind chill factor. All students will be outside for recess when the temperature is 20 degrees and above. Please make sure your child is dressed appropriately. Boots, hats, scarves, gloves and warm coats are necessary.
---
Lunch/Recess/Encore Schedule
Kindergarten Lunch 11:00-11:30
Encore 2:25-3:10
Grade 1 Lunch 11:45-12:15
Encore 1:35-2:20
Grade 2 Lunch 11:15-11:45
Encore 12:45-1:30
Grade 3 Lunch 12:30-1:00
Encore 10:40-11:25
Grade 4 Lunch 12:30-1:00
Encore 9:00-9:45
Grade 5 Lunch 12:45-1:15
Encore 9:50-10:35
---
2 Hour Delay Schedule
10:40 Students Arrive
10:45 Students Enter Classrooms
10:55 Tardy Bell
11:05 Second Grade Lunch
11:35 K/First Grade Lunch
12:05 Third Grade Lunch
12:35 Fourth Grade Lunch
1:05 Fifth Grade Lunch
3:20 Dismissal for 4th/5th Grade
3:23 Dismissal for 3rd Grade
3:26 Dismissal for 2nd/1st Grade
3:29 Dismissal for Kindergarten
---